CUSTOMIZED COLLECTION
serum | plasma
Negative Plasma & Serum
All materials are freshly drawn on customer request, and are produced at US FDA registered and approved blood banks and are fully virus tested according to the regulation with FDA approved test procedures or in accordance with European directives.
Human Plasma

Code
Specificity
Form
NP0130
anti-HBs neg. source
single
NP0210
anti-HBs neg. source, customized
single
NP0230
anti-HBs & anti-HBc neg source
single
NP1201
anti-HTLV I/II negative source
single
NP1230
anti-HBs & anti-HBc & anti-HTLV- I/II neg source
single
Custom Anticoagulants

Code
Specificity
Form
NP0110
ACDA Plasma
single / pooled
NP0200
Human Plasma, Citrate
single / pooled
NP0300
Normal Plasma CPD
single / pooled
NP0990
Normal Plasma, Lithium Heparin
single / pooled
NP0992
Normal Plasma, K3 EDTA
single / pooled
NP0993
Normal Plasma, Na2 EDTA
single / pooled
NP0995
Normal Plasma, Sodium Heparin
single / pooled
Human Whole Blood & Blood Components

Code
Specificity
Form
SN0001
Whole Blood
single
SN0010
Erythrocyte Concentrate
single / pooled
NP0020
Red Blood Cells (Na2 EDTA)
single / pooled
SN0050
Buffy Coats
single
SN0060
SAG-M red Cells Concentrate
liquid
SN0992
K3 EDTA Whole Blood
frozen
PCR | viral serum matrix
Viral positive Bulk

0.5 – 200 ml, serum and plasma fully tested and characterized

Marker
Viral load
Genotype
Serology
Sequence / Mutation
WNV
•
•
HIV
•
•
HCV
•
•
•
•
HBV
•
•
•
•
Parvo B19
•
CMV
•
•
•
HAV
•
•
•
For each marker we also manufacture negative and control material.
Genotyped Plasma / Serum
R&D | validations & characterization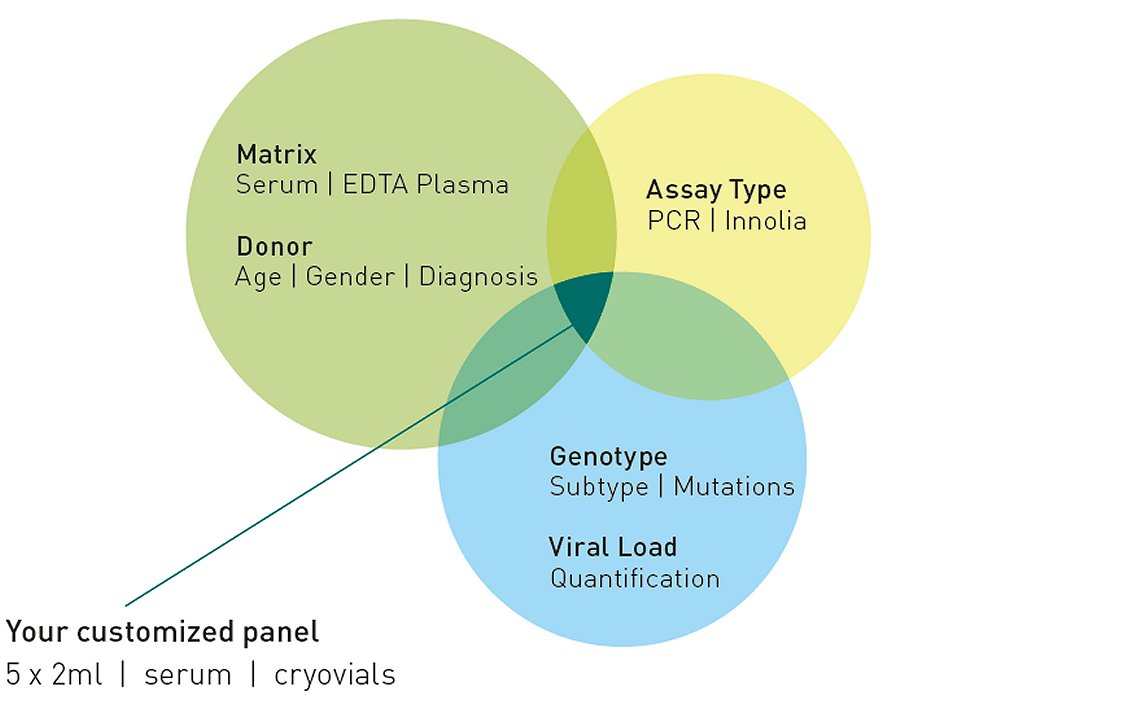 The full list of products is available, please contact us.
---
R&D | assay validation
TRINA Clinical Services
Large variety of biological products and services, backed by expertise in virology, serology, immunology and molecular biology.
Laboratory testing services, including parallel testing
• Donor Identification / screenings for Markers / Conditions
• Management and analysis of collected data
• Sample management and logistical support
Clinical trial support
• Customized clinical data
Assay Validation
• Performance validation FDA / CE
• Screenings
• Quality monitoring materials
---
pre-clinical specimen | patient samples
TRINA BIOREACTIVES provides biological material for research in diagnostic and pharmaceutical industries. Collected specimen are fully compliant with actual ethical and regulatory criteria (IRB approval / ICF documentation).
Clinical Specimen
Over 50'000 donors for biospecimen from globally different diagnostic and demographic individuals. (Europe, Asia, Americas, Africa)
Different Matrixes (Serum, EDTA, LiHep, etc.) & Multibleeds 1 - 800 ml per Donor.
Clinical Data: Patient Data (Age / Gender / GT).
Detailed Anamnesis (prospective).

Isolated Cell Lines / PBMC&
Customized, cryopreserved, ready to use isolated cell lines from specific selected donors. (Donor characteristics
such as: Allergic / PMN enriched / vaccination boosted).
The isolation protocol is designed to meet your assay's specifications. www.trinacell.com
Assay Validation & Pre-clinical
Technical performance validation for chemiluminescence, point of care and molecular based IVD applications: A large donor base (> 5000 Donors in any serum / plasma matrix) for positive / negative / quantifications & validations.
The full list of products is available, please contact us.